Good morning from London.
World stock markets are sliding today as the anxiety that has been building in recent days explodes into a wave of selling.
Shares have fallen sharply across Asia, after Wall Street suffered their worst sell off in eight months overnight, wiping 800 points, or 3%, off the Dow Jones industrial average.
The rout has sent Japan's Nikkei into a tailspin, shedding 4%. Stocks in Hong Kong are down 3.8%, and there are chunky losses in Australia (-2.8%) and South Korea (4%) too.
My colleague Martin Farrer explains from Australia:



A jittery, volatile week on global financial markets has burst into a frenzy of selling, triggered by heavy losses on Wall Street and comments by Donald Trump describing US interest rate hikes as "crazy"….

"It's a bit of a bloodbath," said Ed Campbell, senior portfolio manager at QMA, the asset management branch of Prudential Financial in New York. "It's primarily the cumulative effect of interest rate moves over the past five days and news reports about trade impacting companies."
European markets had already endured a bad week, and it's about to get worse.
Traders are predicting that Britain's FTSE 100 will plunge to a new six-month low this morning, perhaps shedding more than 100 points.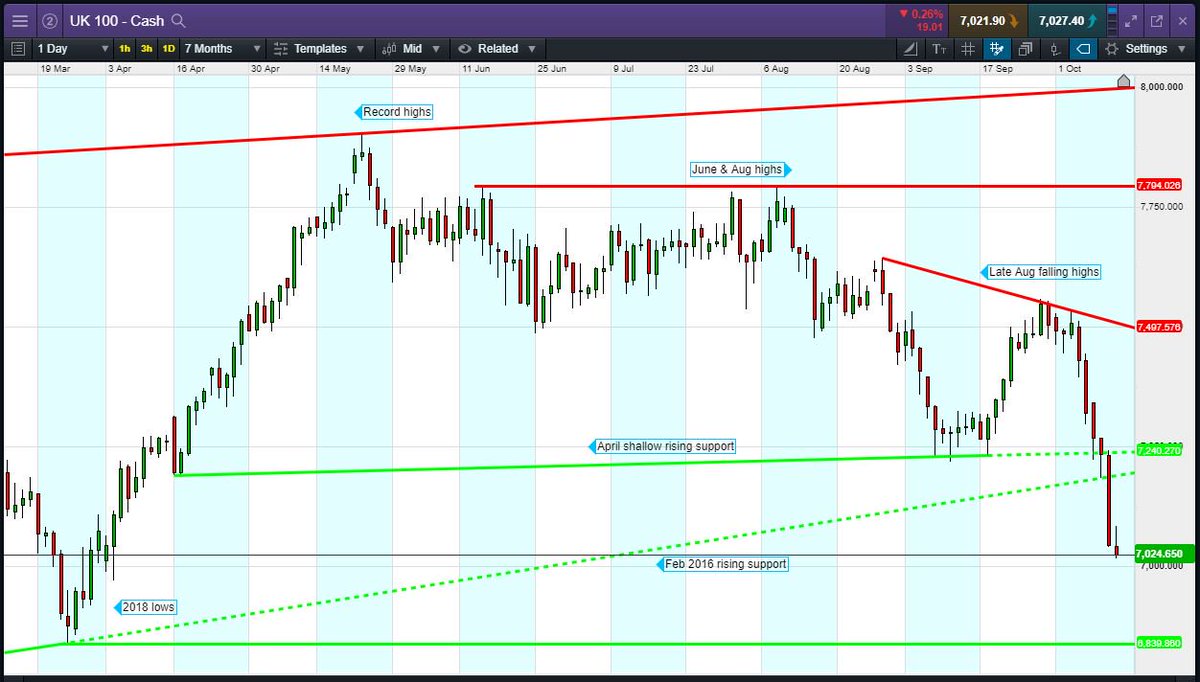 The rout is being fuelled by concerns that US interest rates are heading higher, as the Federal Reserve tries to keep a lid on American inflation.
Donald Trump added to the pressure overnight, branding the Fed 'crazy' for planning to keep raising interest rates in the months ahead.
Trump told reporters in Pennsylvania that:



"The Fed has gone crazy.

"No, I think the Fed is making a mistake. They're so tight."

"It's a correction we've been waiting for, for a long time, but I really disagree with what the Fed is doing."
The president neglected to mention that its his relaxed fiscal policy, and recent tax cuts, are one factor pushing Federal Reserve governors to hike.
Worries over the US trade war with China (another Trump 'achievement'), are also worrying investors, after the IMF slashed its growth forecasts earlier this week.
Kit Juckes of French bank Societe Generale says Wall Street has finally caught up with events:



For much of 2018, the US economy has been oblivious to a turn in the global economic cycle, and the US equity market has been unaffected as emerging market equities and currencies have come under pressure. This week has seen the S&P, and the Nasdaq, sit up and pay attention to what's going on.

The President's criticism of the Fed adds colour, but no real substance to the situation.
Later today we get new US inflation figures, which could also move the markets. If price pressures keep mounting, the Fed will feel that it needs to keep raising borrowing costs, despite chuntering from the White House.
The agenda
9.30am BST: Bank of England survey of credit conditions
1.30pm BST: US consumer price inflation for September
1.30pm BST: US weekly jobless figures