Japan's Nikkei enjoys longest winning streak in 50 years
Japan's Nikkei has risen for a 14th consecutive session, posting its longest winning streak in more than 50 years.
A weaker yen helped to push up shares, with the dollar up 0.6% to 113.16 yen after the US Senate voted on Thursday to approve a budget blueprint for the 2018 fiscal year.
The Nikkei closed up just 0.04 percent, or 9 points, at 21,457.64, but it was enough to clinch its longest daily winning streak since 1961.
Japan's share index has risen by more than 5% over the past fortnight on hopes that Prime Minister Shinzo Abe's ruling coalition will win a general election on Sunday.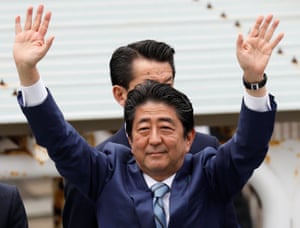 The agenda: pound dips, UK public finances, Spanish politics
Good morning, and welcome to our rolling coverage of the world economy, the financial markets, the eurozone and business.
The pound is under pressure this morning as investors become increasingly uncertain that Bank of England policymakers will follow through on hints that UK interest rates will rise.
It was down more than half a cent at $1.3085, after some of the latest UK data started to point to slowing growth as Brexit uncertainty starts to be reflected in the behaviour of households and businesses.
Consumers are feeling much more cautious about spending, with retail sales falling 0.8% in September. Meanwhile real pay has been falling for six months as prices rise faster than wages.
On Thursday the Bank's deputy governor Jon Cunliffe said it was not clear that interest rates needed to rise soon, planting further doubt in the minds of investors about an imminent rate rise.
Also coming up today:
Investors are expected to remain cautious as political crisis escalates in Spain
09.30 BST: Public finances data is expected to show the UK government borrowed £6.5bn in September, up from £5.7bn in August
Updated

Source link