[ad_1]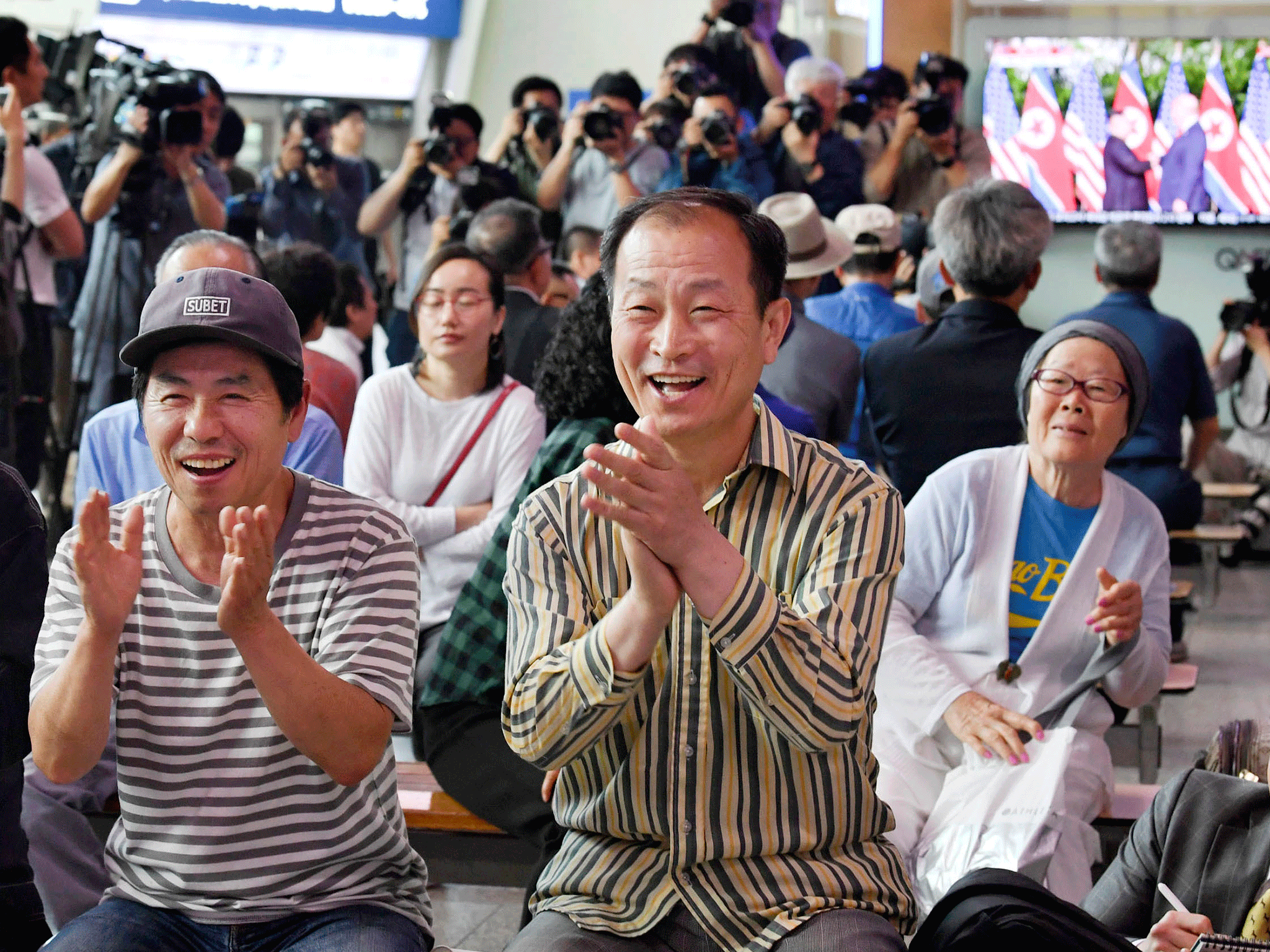 ​President Donald Trump raised high hopes if not solid expectations here Tuesday as he made the most of a vaguely phrased joint declaration with North Korea's Kim Jong-un that avoided the use of the term CVID for complete, verifiable irreversible denuclearization.
Koreans were mesmerized by the sight of the two leaders greeting one another, shaking hands warmly, chatting like old friends even as some expressed doubts about where the extraordinary summit in Singapore would lead and what really would happen next.
"This is just amazing," was the immediate response from Lee Yoon-Jung, a 25-year-old graduate school student watching as images appeared on live TV of Mr Kim alighting from his limousine at the gate of the Capella Hotel on secluded Sentosa Island, across a bridge from the tall modern buildings of central Singapore.
"I can't believe both leaders are finally meeting face to face."
Ms Lee almost burst into tears recalling the parallels between the Trump-Kim summit and Mr Kim's meeting with South Korea's President Moon Jae-in in the truce village of Panmunjom in April.
"After seeing that historic meeting, I feel like crying again," she said.
"I hope this meeting will lead to peace on the Korean peninsula."
Emotions were running high among people here seeing the summit as the climax of series of good-news surprises that had begun in January with Mr Kim's New Year's address in which he said henceforth he would focus on economic development.
His explanation at the time was that North Korea already had enough nuclear warheads and long-range missiles to serve as a deterrent against the country's enemies – not exactly a guarantee of improving relations but still a change in direction.
Hopes were again buoyed by Mr Kim's decision to send his younger sister Kim Yo-jong to South Korea for the opening of the Winter Olympics in Pyeongchang in which North Korean athletes joined forces with their Southern neighbours on the women's hockey team.
More importantly, Ms Yo-jong carried the letter inviting Mr Moon, a staunch advocate of reconciliation and dialogue, to what would be the third meeting in the history of confrontation between the two Koreas.
Mr Moon and Mr Kim wound up meeting twice at Panmunjom, on 27 April and then 26 May, but they were stepping stones to Tuesday's Trump-Kim summit, the one that clearly counted the most in the march to permanent peace on the Korean peninsula.
Shopkeeper Kwon Hye-Young, 35, also felt emotional watching the climax of months of dialogue, and Mr Trump and Mr Kim preparing to sign the statement in which the two reaffirmed the need for "complete denuclearisation" – the same term used in the joint declaration between Mr Kim and Mr Moon.  
"Right before signing the document, Kim Jung-un said that the world would see a major change," she said.
"When I heard him saying that I felt a lump in my throat and got emotional. I almost cried. I can't believe it's happening in my life time."
Not everyone was quite so euphoric, especially as other considerations interfered with the vision of peace at last.
Chang Yong-jin, 45, an office worker, admitted he was "a bit worried about big power countries surrounding Korea – China, Japan and Russia."
He predicted that geopolitical rivalries might well interfere with the dream among Koreans for reunification – a goal that seems extremely distant despite moves toward reconciliation.
"I hope they will not disrupt these peace talks and the ongoing progress just for their own interests," he said, reflecting historic concerns about interference by conniving great powers.
"We are surrounded. Everyone wants to dominate and divide us."
Whatever the long-term future, pragmatic economic benefits were also seen as a dividend of the summitry.
"I'm looking forward to further progress," said Lee Sang-Yup, 55, recently retired from his job as a salesman for a large company.
"I hope economic ties with North Korea will open up new opportunities for us.
"We have a low employment problem here, particularly among young people, and the economy in general is not so good these days, and I really hope cooperation with North Korea will bring some good opportunities for both countries."
If nothing else, Mr Trump's meeting with Mr Kim had raised his popularity among those inclined to view him with distrust if not contempt.
"I just hope the talks between them will turn out to be successful and contribute to world peace," said librarian Kim Hyun-A, 38.
"I admit that I didn't like President Trump in the first place, but I now support him in this historic deal. I think he is doing a great job,"
But "the real hero," he said, was President Moon, who has long urged talks between the American and North Korean leaders. "I really admire him the most."
Cho Hyo-jung, 70, saw the Trump-Kim summit as nothing short of miraculous.
"It is unbelievable watching all these things going on before I die," she said.
"Everything happened so quickly in a short period of time. I look forward to more good news coming soon. But both are rather like show men. I just hope this meeting will lead to a substantial agreement."
[ad_2]
Source link