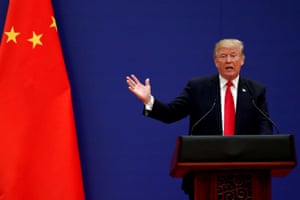 Good morning, and welcome to our rolling coverage of the world economy, the financial markets, the eurozone and business.
The trade war between America and China has escalated, fuelling fears that the global economy could be dragged down.
Overnight, president Donald Trump announced a new 10% tariff of $200bn on Chinese goods arriving in the US from next week. It will rise to 25% at the end of the year.
It's the latest move in Trump's push against "unfair" trade policies, which economists fear will prove counterproductive.
Trump hit out at China last night as he announced the move, saying:



"For months, we have urged China to change these unfair practices, and give fair and reciprocal treatment to American companies. We have been very clear about the type of changes that need to be made, and we have given China every opportunity to treat us more fairly.

But, so far, China has been unwilling to change its practices."
And in a typical Trumpian flourish, he added:



"I urge China's leaders to take swift action to end their country's unfair trade practices. Hopefully, this trade situation will be resolved, in the end, by myself and President Xi of China, for whom I have great respect and affection."
Thousands of Chinese products will now be more expensive in America, from fish, meat and vegetables to chemicals, furniture, metals and electric goods.
This will cut demand for these products (hurting the Chinese economy), and also probably drive up prices in US shops (hurting Americans).
The move will disappoint the City, where traders had been clinging to hopes of a peace deal. Instead, we are now awaiting China's retaliation.
Trump's move means that America will now have tariffs on roughly half of its imports from China (which totalled over $500bn last year). China only imports around $130bn from America, meaning it can't simply announce a tit-for-tat retaliation.
According to Bloomberg, Chinese Vice Premier Liu He will hold a meeting in Beijing on Tuesday morning to discuss the government's response. China could decide to pull out of planned trade talks in Washington next week, if it feels Trump isn't showing sufficient goodwill.
The agenda
8.15am BST: European Central Bank president Mario Draghi speaks in Paris