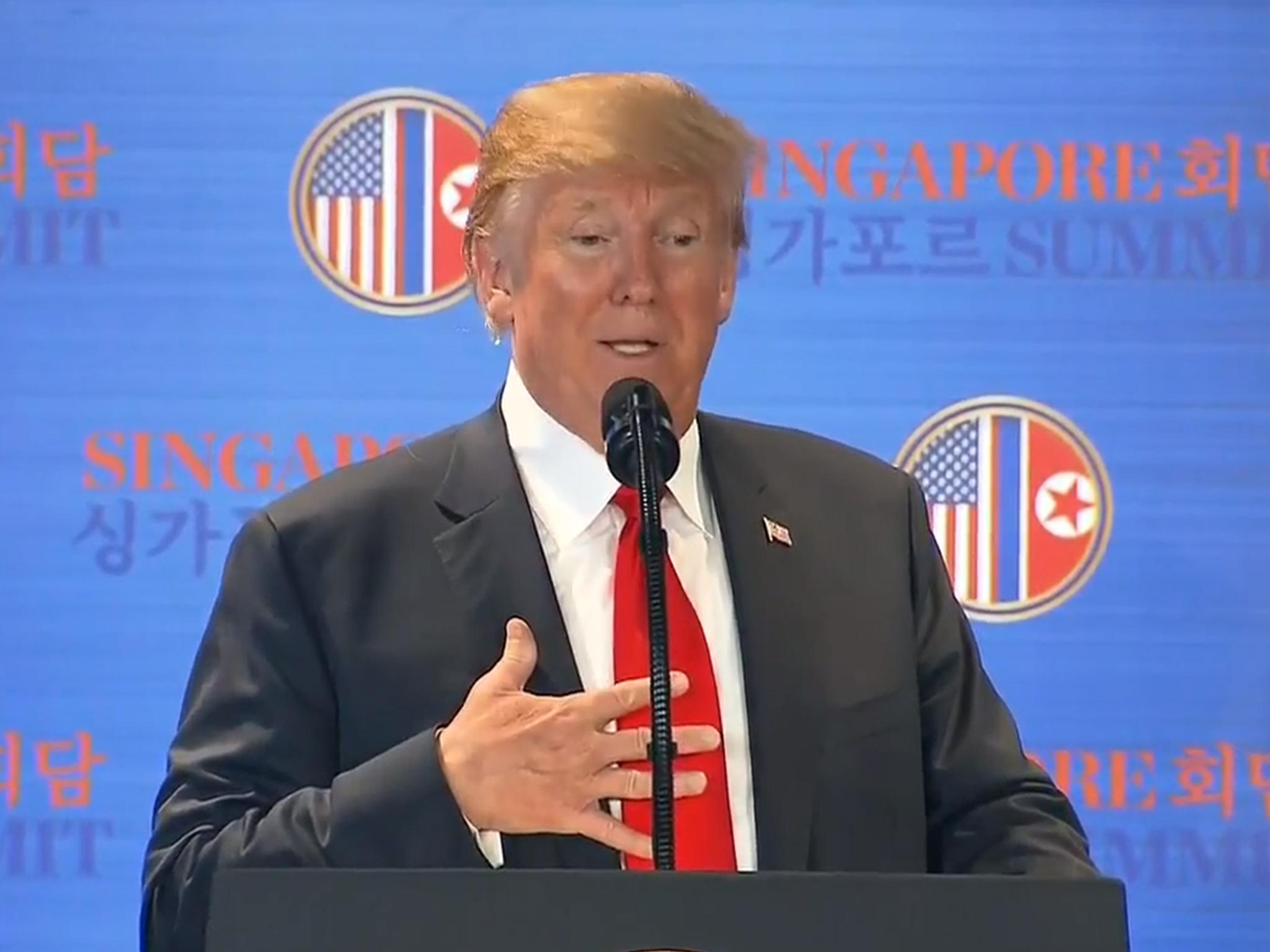 Donald Trump has said the US will stop joint military exercises with South Korea, saying it will save "a tremendous amount of money" and noting the war games are "very provocative", in what appears to be a major concession to North Korea following his summit with Kim Jong-un.
Speaking in a press conference after Mr Kim left Singapore, the US president said the "war games are very expensive", adding that the US pays "a big majority of the expenses for them".
He complained that the US flies bombers from Guam to South Korea for "six or seven hours" for the exercises, saying he "knows a lot about planes" and that was "a long time for these big massive planes to be flying to South Korea to practice and then drop bombs all over the place". Mr Trump owned an airline, Trump Shuttle, from 1989 to 1992.
Follow the latest updates on the Trump-Kim summit fallout here
Mr Trump said his second motivation for stopping war games with South Korea was that it was inappropriate now that talks had begun with North Korea.
"I think it is very provocative," he said. "You have a country that is right next door."
Mr Trump appeared to suggest that he had not yet discussed stopping the war games with South Korea itself, saying it was something "we have to talk to them about".
South Korea's presidential office said in a statement that it was trying to establish what Mr Trump meant by his announcement. A Blue House spokesperson told NPR: "At this moment, the meaning and intention of President Trump's remarks requires more clear understanding."
In a glowing statement which did not mention the issue of war games, South Korea's president Moon Jae-in said he wanted to write "new history" with North Korea, and praised Kim Jong-un for attending the Singapore talks.
"Leaving dark days of war and conflict behind, we will write a new chapter of peace and cooperation," Mr Moon said in a statement released by his office. "We will be there together with North Korea along the way."
Mr Trump's comments on the expense of the joint exercises risks opening up yet another rift with an established ally. He said: "South Korea contributes but not 100 per cent, which is certainly a subject that we have to talk to them about also, and that has to do with the military expense and also the trade.
"So we're doing that. We actually have a new deal with South Korea in terms of the trade deal but we have to talk to them. We have to talk to many countries about treating us fairly."
The comments echo Mr Trump's previous complaints about Nato countries failing to pay their way for the military alliance, and his falling-out with G7 leaders in Canada over trade links.
Earlier, Mr Trump and North Korea's Mr Kim concluded an extraordinary nuclear summit Tuesday with the US president pledging unspecified "security guarantees" to the North and Kim recommitting to the "complete denuclearisation of the Korean Peninsula." 
Mr Trump acknowledged that the timetable for denuclearisation is long, but said, "once you start the process it means it's pretty much over." 
Mr Trump sidestepped his public praise for an autocrat whose people have been oppressed for decades. He added Otto Warmbier, an American once detained in North Korea, "did not die in vain" because his death brought about the nuclear talks. 
Mr Trump said Mr Kim accepted his invitation to visit the White House at the "appropriate" time. 
Additional reporting by agencies