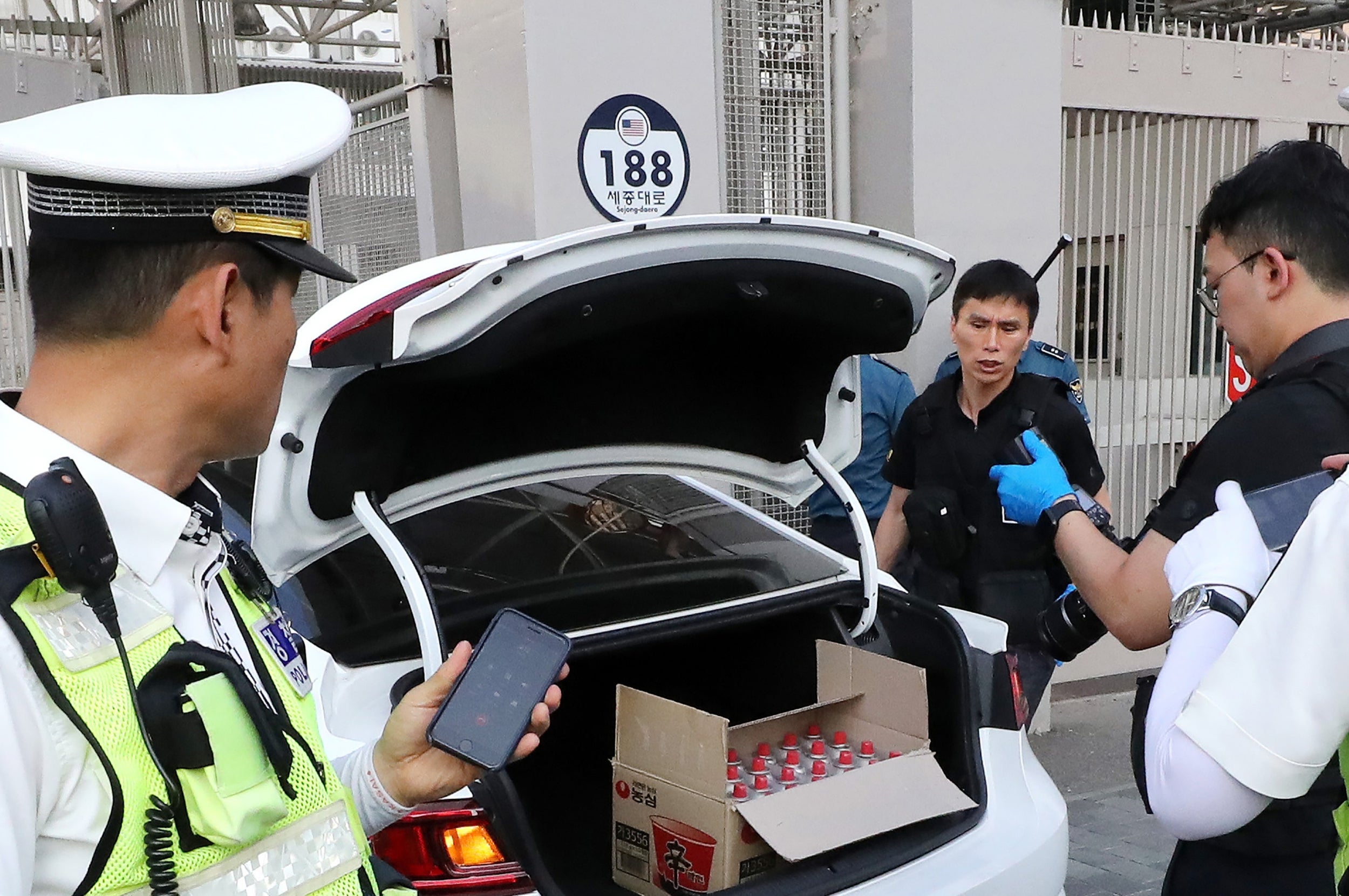 Car filled with gas canisters crashes into Seoul US embassy just days before Trump visit
A car filled with gas canisters has been driven into the main gate of the US embassy in Seoul, days before US President Donald Trump is due to visit.
South Korean police say the rental vehicle made a "sudden turn" before crashing into the compound's gates, which are guarded by US Marines.
A 40-year-old man has been arrested in connection with the incident and a cardboard box carrying more than 20 disposable gas canisters was found in the boot of the car. Police have not commented on a motive for the incident.
"ISOCountryGroups": "euro": [ "at", "be", "cy", "ee", "fi", "fr", "de", "gr", "ie", "it", "lv", "lt", "lu", "mc", "mt", "nl", "pt", "sk", "si", "sm", "es", "va" ], "uk": [ "gb" ], "us": [ "us" ]
"inline-prompt-experiment": "variants": "1": 33.4, "2": 33.3, "3": 33.3
We'll tell you what's true. You can form your own view.
From
15p
€0.18
$0.18
USD 0.27
a day, more exclusives, analysis and extras.
No one was injured in the incident.
Security at the embassy is expected to be enhanced ahead of President Trump's visit, which will include a summit with his South Korean counterpart Moon Jae-in.
Mr Trump has said that he is considering a visit to the heavily fortified demilitarised zone (DMZ), which divides North and South Korea, but trilateral talks with Kim Jong-un are not expected to take place.
The president attempted to visit the DMZ, which lies around 30 miles north of Seoul, during a previous visit to South Korea in November 2017 but was forced to abandon the trip due to bad weather.
Several senior officials from his administration, including Vice President Mike Pence, former Secretary of Defence James Mattis and former Secretary of State Rex Tillerson, have all visited the DMZ, which was once described by President Bill Clinton as the "scariest place on Earth"