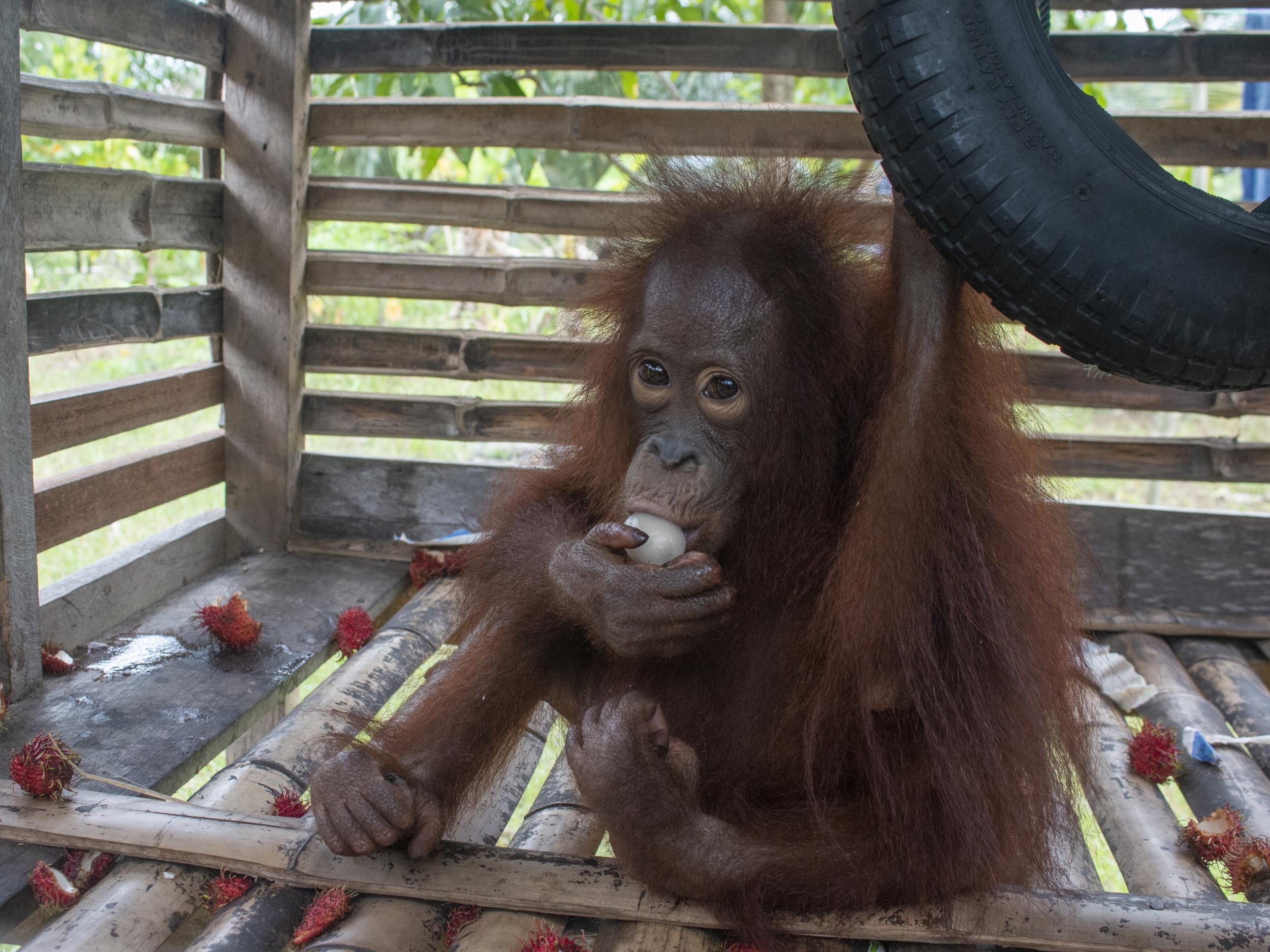 A young orangutan that had been kept locked in a wooden crate for four years has been rescued by conservationists in Borneo.
Indonesian Forestry officials aided in the rescue of the ape after a tip-off from residents at the small village of Punai Jaya.
A local man identified as Aliansah admitted he had found the orangutan in the palm oil plantation close to his house in 2015, and had been illegally keeping her as a pet ever since.
Join Independent Minds
For exclusive articles, events and an advertising-free read for just
£5.99
€6.99
$9.99
a month
Get the best of The Independent
With an Independent Minds subscription for just
£5.99
€6.99
$9.99
a month
The young female, named Senandung, was kept in a cage no larger than 2m by 1.5m. Her owner claimed he had tried to set her free but she had returned to the house.
Initial inspection by a vet suggested the ape was healthy, but was recovering from a cold.
Staff at from International Animal Rescue and the Nature Conservation Agency (BKSDA) of West Kalimantan conducted the rescue and took the orangutan to a nearby conservation centre.
There she will be kept under quarantine for two months, and tested to ensure she is not carrying any diseases that could be passed onto other orangutans at the centre.
Despite considerable campaigning and education programmes, the illegal practice of keeping these endangered creatures as pets still persists in remote parts of Borneo.
"It's time everyone who keeps an orangutan realises that, if they persist in breaking the law, orangutans will become extinct," said Karmele Sanchez, programme director of International Animal Rescue Indonesia.
"Anyone who has an orangutan in their possession should immediately report it to the authorities."
Orangutans are under threat from deforestation and hunting as palm oil operations expand into their dwindling forest territory.
Numbers of these great apes in Borneo have roughly halved over the past two decades, with human operations wiping out up to 90 per cent of their habitats.
Normally young orangutans of Senandung's age would be with their mothers, so the conservation groups said it was highly likely the baby ape's mother had been killed.
Conservation groups operating in the region aim to rehabilitate rescued apes, but said this is often not possible if the former pets are too old to safely return to the wild.
In order to give the species a chance, they said something must be done to stop the deforestation that lies at the heart of their decline.
"Orangutans need the forest, the forest needs orangutans – and as humans we need both the forest and the orangutans," said Sadtata Noor Adirahmanta, Head of the BKSDA