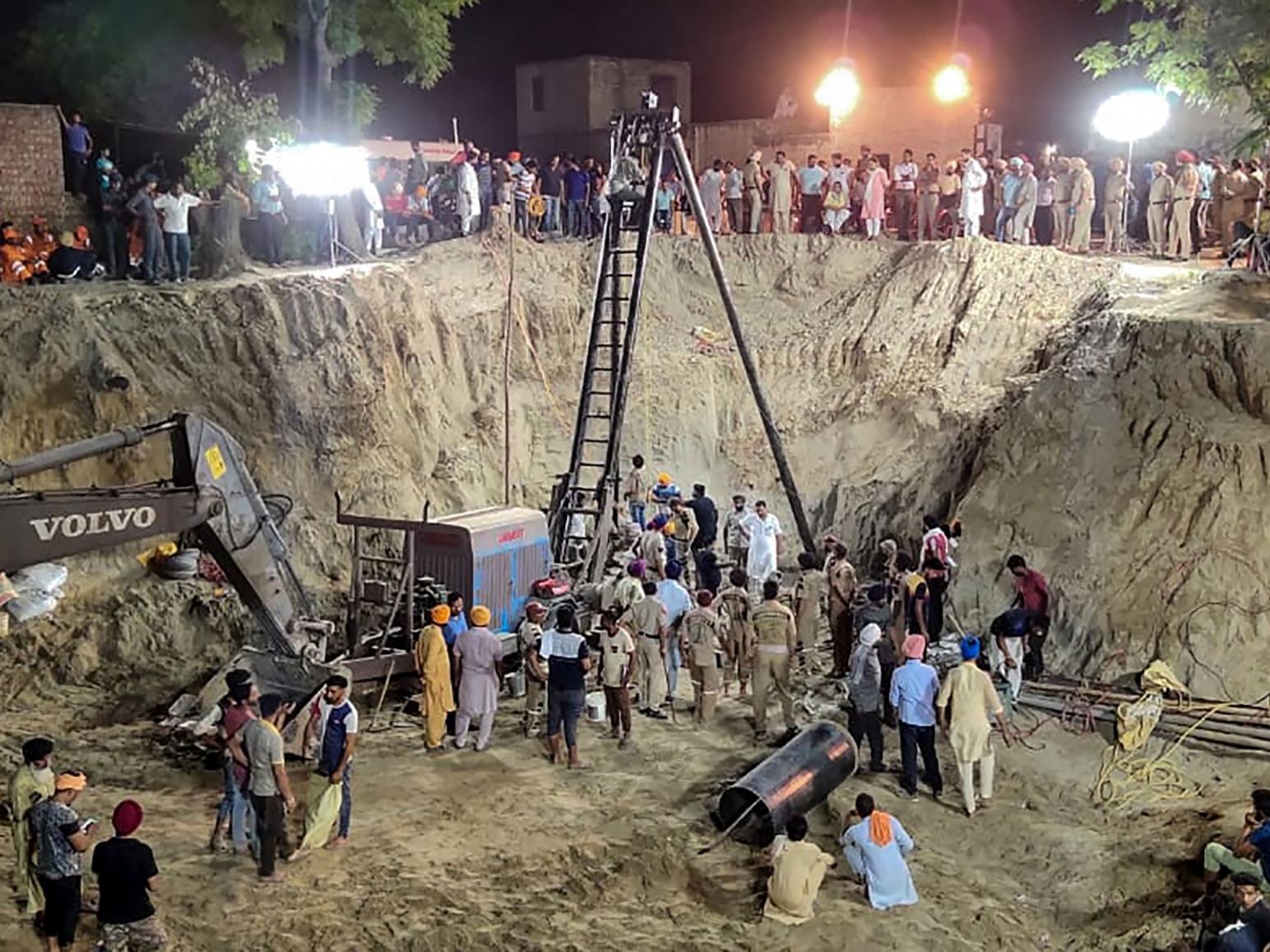 Toddler dies after being trapped down 150ft well in India for four days
A two-year-old Indian boy who fell into a deep well while playing outside his house has died during a 110-hour rescue operation.
Fatehveer Singh, who had just turned two, fell into the seven-inch-wide borehole – drilled into the earth to retrieve water – in a field in the village of Bhagwanpura, in Punjab state's Sangrur district on Thursday.
The entrance to the 45m (150ft) shaft had reportedly been covered with a piece of cloth.
"ISOCountryGroups": "euro": [ "at", "be", "cy", "ee", "fi", "fr", "de", "gr", "ie", "it", "lv", "lt", "lu", "mc", "mt", "nl", "pt", "sk", "si", "sm", "es", "va" ], "uk": [ "gb" ], "us": [ "us" ]
"inline-prompt-experiment": "variants": "1": 33.4, "2": 33.3, "3": 33.3
We'll tell you what's true. You can form your own view.
From
15p
€0.18
$0.18
USD 0.27
a day, more exclusives, analysis and extras.
He became stuck at a depth of 38m (125ft). 
State authorities dug a parallel hole in an unsuccessful bid to reach him, before rescuers pulled him to the surface with a rope on Tuesday.
He was taken to a hospital in the state capital of Chandigarh but confirmed dead on arrival.
Authorities had been able to supply oxygen to the toddler but not food or water. His body had reportedly begun to decompose by the time rescuers reached him.
The failure of the rescue operation has provoked anger in the village, where protests erupted after news of his death emerged.
The boy's family accused the local government of "negligent behaviour".
"They did not use proper technique to rescue him early on," a relative told the Press Trust of India news agency.
They added: "Trial-and-error methods were adopted for days. Where were the modern methods and technology?"
Opposition MP Sukhbir Singh Badal, Punjab's former deputy chief minister, tweeted: "This is a daylight murder of the most inhuman and beastly kind.
"The government remained absent as the child lay dying. Unforgivable."
Amarinder Singh, the chief minister of Punjab, said he was "very sad to hear about the tragic death of young Fatehveer".
He added: "I pray that Waheguru grants his family the strength to bear this huge loss. Have sought reports from all [district councils] regarding any open bore well so that such terrible accidents can be prevented in the future."
Well falls are not uncommon in India, where holes dug to draw water are often left dangerously open. Many such falls lead to successful rescues.